Mike Foster Director of ManageMe Services looks at the types of tasks that a managed service can assist with.
As your business grows it requires a more diverse range of skills to operate often taking you away from your core business. This is where outsourcing, the process of using a third-party service provider to handle certain functions in your business can offer real value. Allowing access to staff that can take away your pain points or offer skills that you don't have or have the time to learn.
It's important to outsource to vendors that can offer a service that is efficient, cost effective and minimises your involvement. Outsourcing tasks effectively will free staff time up to be focused on higher value activities.
There are many areas that can be outsourced especially for businesses that are online or want to move online. Cloud based Job Management software is now widely available and means that your business can operate efficiently from anywhere. Some areas of Trade based businesses that can be outsourced are shown below.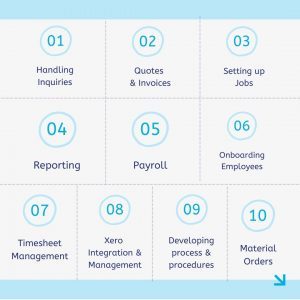 Other Services
The ManageMe Team helps clients with scheduling, marketing, lead generation as well as undertaking the administration of many repetitive back-office tasks. If it's not a core business activity that is adding to your bottom line or is a pain point for your business it might be worth having a chat with us about how we can help.